About Our Cafe
A Floral Coffee Experience
Step into our enchanting flower shop, where the aroma of blossoms mingles with the irresistible scent of freshly brewed Devocion coffee. Our cozy coffee corner, nestled amidst vibrant floral arrangements, invites you to indulge in the perfect blend of artistry and flavor.
Sip on the finest Devocion coffee, meticulously sourced and expertly prepared to awaken your senses. Pair your brew with a heavenly selection of delectable pastries, each one handcrafted to perfection.
Our flower shop is not only a haven for coffee lovers but also a versatile space for hosting unforgettable events.
Whether it's an intimate gathering or a grand celebration, our dedicated team will transform our picturesque surroundings into a breathtaking setting. With our exquisite flowers, aromatic coffee, delectable pastries, and personalized event services, we strive to create an experience that will leave a lasting impression on every guest.
Discover the harmonious blend of nature, coffee, and celebration at our exceptional flower shop.
For more information and bookings please contact us at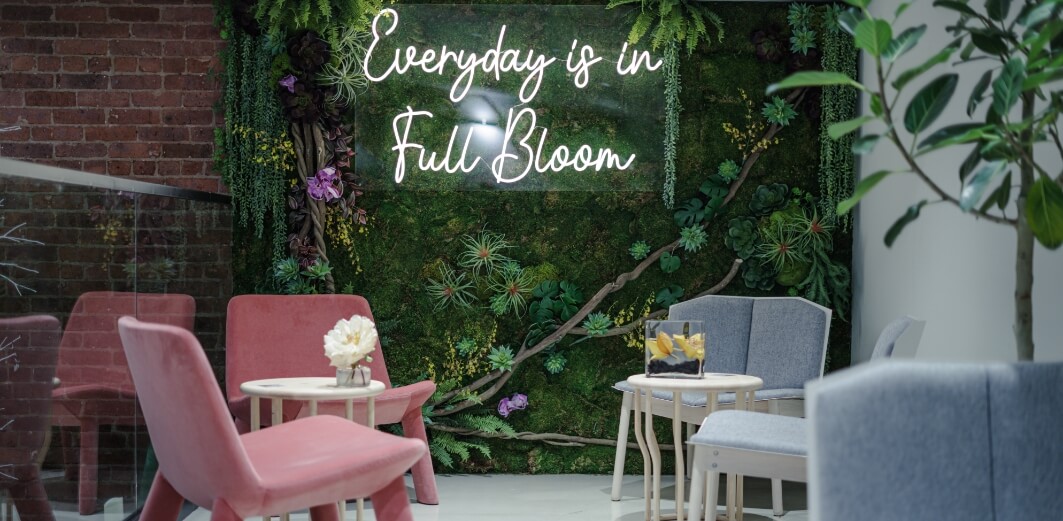 Our Menu
Delicious Coffees & Snacks
Hot Coffee
Extra Espresso Shot
**Decaf Available
$ 1.50
Tea
Tea hot
Green Tea, Chamomile(DC), Earl Gray, English Breakfast, Lemongrass Ginger (DC)
$ 3.50
Beverages
Banana Strawberry orange Smoothie
$ 7.50
Sandwiches
Turkey – Swiss
Turkey, Swiss Cheese, tomato, Lettuce and Honey mustard.
$ 11.50
Prosciutto – Mozzarella
Prosciutto, fresh mozzarella cheese, tomato, arugula, balsamic vinaigrette.
$ 12.95
Ham & Cheese
Ham, Swiss cheese, chipotle mayo.
$11.00
Olive- Tofu
Tofu, tomato, cucumber, olive spread.
$10.50
Mozzarella – Tomato
Fresh mozzarella, tomato, arugula, balsamic vinaigrette
$ 11.00
Hallumi – Hummus
Hallumi cheese, Tomato, Cucumber, Hummus
$ 12.00
Greek Yogurt
Yogurt, granola, berries- honey on the side
$ 7.00
Baked Snacks
Bagel with olive and tomato
$ 7.50
Olive Orange with raising cookie
$ 4.50
Salads
Greek Salad
Tomatoes, Cucumbers, red onions, green Peppers, Feta cheese, and Kalamata olives,
**Vegan Option Available
$ 12.50